Mandy Boyd and her side of sister, Angela, Sheryl McLean and Leigh Griffin edged Sandra Keith's team 16-15 on an extra end in the women's final on Monday to win the fours at the New Zealand bowls championship in Dunedin.
The game was often scrappy, but the closeness of it maintained the interest until the last bowl was played. Keith's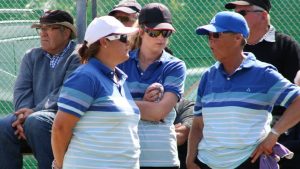 side of Selina Goddard, Amy McIlroy and Serena Matthews did the best at the start, with Goddard leading well to open up a 7-1 lead.
But Mandy Boyd improved a count of one to four when she trailed the jack on the fifth end, and three successive singles followed to give Boyd a two-point lead.
McIlroy had a good spell, her bowls setting up a count of three for Keith's side shortly after. But Griffin converted the subsequent two ends with jack trails, giving Boyd a 13-10 lead. Singles were the order of the day from then on, with Boyd holding just a one-point lead on the last end. Keith got the shot to force the game into overtime.
With her second delivery, Goddard hit in Angela Boyd's bowl for shot. On the push, Matthews dislodged the jack, but it went back to McLean's bowl. Keith, running twice, missed narrowly to leave the title with Boyd's team.
"These are the games you come to the nationals for," Mandy Boyd said. With the win, Angela Boyd won her gold star for five national titles, while it was McLean's first, Griffin's third and Mandy Boyd's sixth.
And this is the fifth year in a row Victoria has come away from the National Championships with a title!
Boyd's team of sister Angela, Sheryl McLean and Leigh Griffin were never tested in their semi against Doreen Bell, Mary Ross, Carolyn Crawford and Muir. They led 8-0 early and the contest was called off after just 12 ends. In the last eight, Boyd defeated Katelyn Inch 17-9.