Congratulations t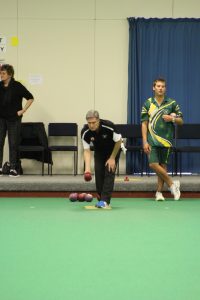 o super sub Laurie Guy who was brought into the Scotty's Meats NZ Professional Bowls Association team to play the Australian PBA at the Heretaunga Club in Hastings at the start of the month. Laurie benefitted from last year's individual champion Ken Walker wrecking his achilles in a gardening accident making the most of it.
The whole NZ team started slowly losing the first round but Laurie then became the only kiwi in two years to beat Ben Twist in the preliminary rounds. Twist is the only player from either country to play in all seven years of the event. Laurie went on to beat the third best Aussie Ray Pearse, and Steve Halmai to finish top of the kiwis and therefore play in the main final against Twist.
The Aussies stepped it up in the finals winning all three matches but because he was the best kiwi, Laurie is an automatic invite to next year's event in Australia!