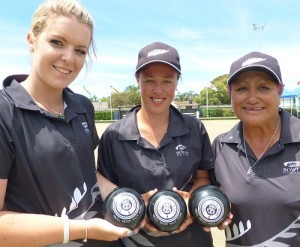 The courageous Black Jacks combination of Mandy Boyd, Jan Khan and Lisa White bagged New Zealand's second World Championship silver medal at the Lockleys Bowls Club in Adelaide yesterday.
After an even first half in the 15-end triples final – scores were locked at 7-7 after seven – and despite their best efforts, the NZ girls were always on the back foot against the strong Australian team of Karen Murphy, Lynsey Armitage and Natasha Van Eldik, who played supremely over the concluding stages to fashion a 21-9 score line.
Earlier in the week, the team were far too accomplished for the Hong Kong trio of Tammy Tham, Jessie So and Alice Lee, winning 19-6 in the 15-end quarter final at Lockleys Bowls Club.
It was a beautifully crafted count of five on the ninth end, which took the score to 14-4, that sealed Hong Kong's fate and from that point onwards the Black Jacks were able to control proceedings over the remaining ends.
They then thrilled and inspired the huge crowd of NZ supporters coming from behind to dispose of the crack Scotland trio of Lynn Stein, Caroline Brown and Michelle Cooper for a spot in the gold medal play-off against Australia on Saturday.
Unfortunately, the women's fours team of Jo Edwards, Boyd, Khan and White suffered a shock one-shot loss to the previously unheralded Botswana side in the final round of pool play and were eliminated from the competition having previously been in second place in the pool behind Scotland.