Well done Rich, Brad & Ray!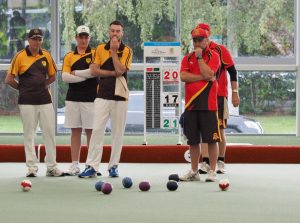 Congratulations to Richard Corry, Bradley Down and Ray Martin winning the Wellington Open Triples inside the new Naenae indoor complex on Monday. They defeated the Ron Mead skipped Hutt side 23-11 in the final but had to come through a titanic extra end semifinal against Seamus Curtain's Stokes Valley team before hand. This was Brad's 3rd Wellington senior title, Ray's 4th and Rich's 6th. They now travel to Wanganui in April for regional club championship play-offs. And this win puts Victoria in amongst a five-way fight for the Wellington Men's Club of the Year.
Nina De Munnik, Sarah Taukamo and Helen King also featured on the final day going down in their semifinal to the eventual champion Johnsonville side skipped by Dale Rayner 20-23 fighting back from a 5-18 deficit.
.