Well done Richard, Jayden & Ray!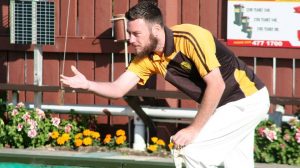 After ousting defending champion Peter Belliss 13-9 in their first fours post-section match, Ray Martin's side of Richard Corry, Jason Johnstone and Jayden Ravji edged out Joseph Van der Pennen 16-15 in the last 16. They went on to lose their quarterfinal match against the eventual runner-up team skipped by Sheldon Bagrie-Howley (Southland).
Earlier in the tournament Richard eliminated three-time champion Ali Forsyth in singles section-play 21-20 while Ray upended one of the main local chances of sucess Shaun Scott 21-14.