Well done Nic & Tim! …and Kirsten, Kay & Leigh!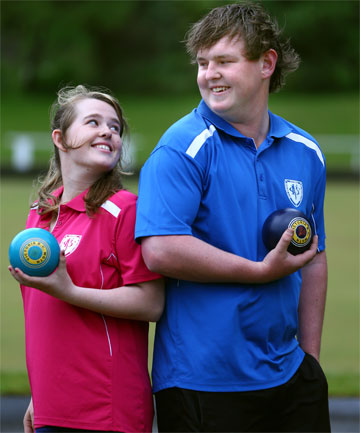 In a big day of bowls in the Wellington centre on Monday, Nicole and Tim Toomey won the regional play-offs of the National Mixed Pairs competition at the Johnsonville club beating some esteemed players along the way. They started with a tight 17-15 victory over Eileen Jones and Ray Boffa (Kapiti Coast), carried on with a win over Dot and Peter Belliss (Wanganui) 18-12 before completing the job with a comfortable 12 shot margin over Maureen Tamou and Des Lowry (Taranaki). The Toomeys will now travel to the national finals to play the other regional winners in Dunedin in June. This will be the second year in a row that Tim has played in the national club finals week after representing the club in the triples last year for a second placing.
The other event going on on Monday was the Wellington Open Triples where the Victoria team of Kirsten Griffin, Kay Carr and Leigh Griffin beat Paula Meredith's Johnsonville team 18-9 in the semifinal at Whitby before going down in a very tight battle to Petone Central's Tanya Wheeler 17-18. The result further entrenched Victoria and Petone Central as the top two clubs competing for the Bowls Wellington Club of the Year title with Victoria's large gap still under threat pending the results of the Womens Pennants competition to come in. Johnsonville charged to the top of the mens race with Victoria lying in third on this season's standings.